Flareon, the Fire-type Pokemon, is one of the popular species in Pokedex. Some so many players wish to get Flarion for its firing power. But catching a Flareon in the wild is not possible as it is an evolved form of Eevee. 
Many players may say the Eevee gets evolved to Leafeon, while others might say that it gets evolved to Jolteon and many others. To resolve this confusion, the fact is that Eevee can get evolved into seven different forms and the evolution names are Leafeon, Glaceon, Flareon, Jolteon, Umbreon, Vaporeon, and Espeon. Of course, there is a reason why many players wish to get as many Eevees as possible.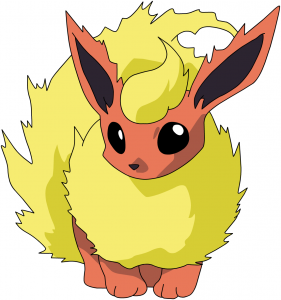 To get Flareon in Pokemon Go, you have to evolve Eevee into Flareon by using several tricks. One of the most famous tricks is of changing the nickname of the Eevee to make it evolve. Apart from this, other tricks are trading and raid rotations. 
About Flareon
Before you evolve Eevee into a Flareon, it is a great idea to know a bit about this Pokemon. This Fire-Type Pokemon got introduced in Generation I itself. It is a fox but without any of the sly habits of a fox. Moreover, this cute legendary Pokemon turned into a mighty Flareon is known for its fire tricks and attacking jolts. 
Physical Description, Strengths, and Weaknesses:
Eevee species of Nintendo Game is a cute little evolution category species of 30.5 cm that evolves into a triple-sized Flareon of 88.9 cm. With a weight of 25 kgs, it can flash fire. 
While it is great with fire, the weaknesses of this Pokemon are water, ground, and rock. So, while placing it on the battleground, you must make sure that you do put it against a Pokemon that is strong enough in the abilities of rock, ground, or especially a water Pokemon. 
Personality:
Flareon is a shy and sweet Pokemon who gets nervous very soon. In the chapter Eevee and Friends, Flareon is shown as someone who gets highly nervous while coming in contact with new people. While it is nervous, it releases extreme heat energy through its fur. Of course, this is its power also of releasing fire during fights. 
How to Get Flareon?
There three different ways to get Flareon in Pokemon Go.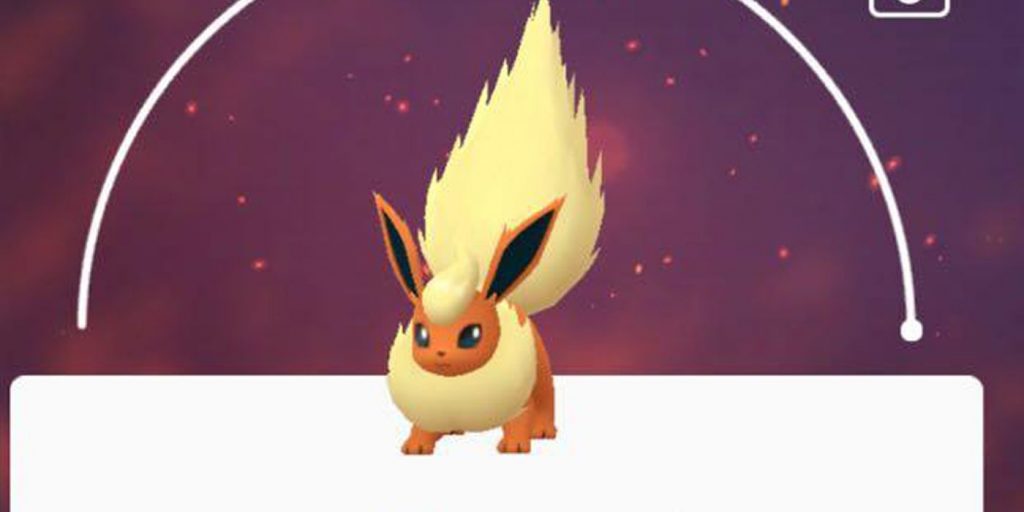 Changing Nicknames:
This name trick is a traditional method of evolving a Pokemon. The only condition with this trick is that it is going to work only once in one account. How to do it? Following these steps to evolve Eevee into Flareon this way.
Step 1 – Open the menu of your Pokedex and select an Eevee on it. The trick here is to make sure to select an Eevee that has the highest CP.
Step 2 – Just next to the name of Eevee, you will find the edit button on which you have to click to edit the name.
Step 3 – Now, you have to rename your Eevee to the desired nickname of the evolved form. In the case of Flareon, you have to provide the nickname Pyro. 
Step 4 – Ensure that you keep the first letter of the name in Capital while typing the name. Save the name after checking it properly. 
Step 5 – Now close the game completely and then restart it all over again. 
Step 6 – Now, coming back to the Eevee for whom you have changed the nickname, hit the evolve button and see the magic happening. 
Several users have reported that this nickname trick has not worked out for them. One of the major reasons here is that they have missed out on the step of restarting the game repeatedly. There can be several times when the server is not working properly. Due to this, the name might not change. Hence, you must restart the game after changing the nickname of the Eevee. 
Trading:
If the name change trick is not working, you can ask one of your friends to offer you a Flareon if they have many copies available with them. At the same time, some friends might help you by offloading a Flareon without any exchange from you, while some others might ask some other favor from you. 
You can ask for a trade with such a community friend looking for a Pokemon you have in excess. Thus, trading a Pokemon in return for a Flareon can help a lot and is a much easier and quicker option if you get the right person for the trade. 
Raid Rotations:
Flareon is not a boss of the Battle raid, but it secures three stars several times. Hence, you can take chances of participating in raids and can win over a Flareon. Now, as Flareon rarely comes up as a boss, this can be a rare moment when you might come up with a Flareon in the raid, beat it, and then win over it. As it is not the boss of the battle raid, winning it over can be quite possible whenever it is available for the raid. 
Important Instructions to Keep in Mind
While evolving Eevee into Flareon may seem to be quite easy, there are some important instructions that you should follow and should keep in mind during the evolution process. 
You can have

random changes

to evolve Eevee into just three different evolved forms, and these are

Vaporeon, Jolteon

, and Flareon.

You can use the trick of name change just once in the game for each evolution form. This means you can use the trick 7 times to evolve Eevee into its 7 evolved forms, one of which will be Flareon. 

As the name change trick will work just once, you should make sure to evolve an Eevee with the highest CP.

Trading and battle raid for getting Flareon can work as many times as possible, but you need to make sure that you find the right friends for trading.

For other evolved forms such as

Leafeon, Graceon, Umbreon

, and Espeon, you have to use other tricks such as using candies. 
Keeping in mind these important points, you can surely evolve an Eevee into a Flareon much conveniently. If you cannot do so, there can be several possibilities, such as server error or that you must have missed out on any of the crucial steps of the evolution methods. Hence, make sure that you go through all the steps carefully and abide by them carefully to get the result.
Conclusion:
When you get Eevee, you might think it to be a delicate little Pokemon just for having as a buddy. Yes, you can get Eevee as buddy Pokemons and walk them through collecting a good number of Eevee candy. You will require these candies later on when you evolve Eevee into many stronger forms. But not all evolved forms of Eevee will require the Eevee candies. 
There are forms such as Flareon that do not require candies, but you need to try other tricks such as the traditional forms to evolve it. The tricks of changing nickname, trading, and raids are some of the best possible ways that you can use in variations to get a Flareon as a part of your Pokedex. 
If you want to get the exact locations of Pokemon in your area, you should check out our real-time interactive Pokemon map.